This is Part Two of a five part series. (Part One, Part Three, Part Four, Part Five).
We arrived at our resort right around noon on Sunday. Our room was ready which allowed us to drop our bags and get unpacked before walking to the International Gateway of Epcot.
With a dinner reservation at Le Cellier, we opted for a quick service lunch at a relatively new location: Regal Eagle Smokehouse at the American Pavilion. I set up searches on the Wait Time Tool for Frozen, Test Track and Soarin'.
As we made our way around World Showcase, we decided to ride Mission: Space first as we awaited an alert. At around 1:40pm while we were in the pre-show, I received a text letting me know that the Soarin' line had dropped from 50 minutes to 30 minutes.
After we exited the ride building, we double checked My Disney Experience and Soarin' was still sitting at half an hour wait, so we made the non-direct journey to the Land Pavilion. To our surprise, the wait time was still at 30 minutes as we entered the queue.
Check out the video on Facebook.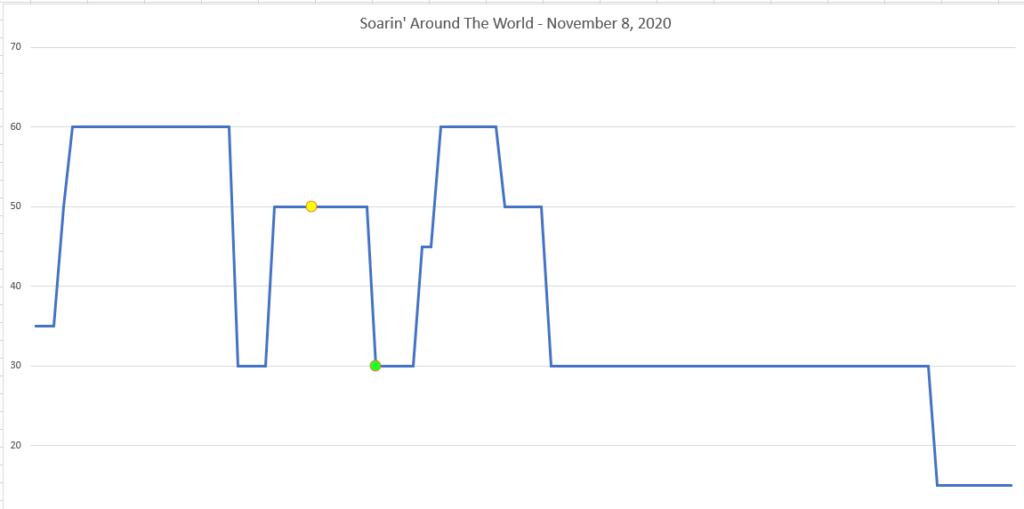 The graph above shows wait times throughout the day. We did receive the alert and get in line before the wait jumped back up to an hour. Also note that for the second half of the day, the line stayed at 30 minutes until near closing. The worst thing a guest could do was ride at any of those peaks before 3:45pm. Using the Wait Time Tool allowed us to find a brief moment during the busier time of the day when the wait time was reasonable.