This is Part One of a five part series of blog articles about using the new Wait Time Tool. (Part Two, Part Three, Part Four, Part Five).
Mousekepros was born from desire to eliminate the need to be on your phone all day and reduce the stress associated with a "typical" Disney World Vacation. With FastPass not in play, we looked at other techniques to reduce wait time for attractions. Services like Touring Plans (note that I do have a subscription) use historical data and machine learning to predict wait times. While this is often fairly accurate to help determine the time of day may have longer or shorter waits, there obviously isn't a guarantee. Also, the parks are operating much differently today than they were at this time last year.
Thus the idea for the Wait Time Tool emerged. Rather than check My Disney Experience periodically, what if a guest received a text message once the wait time reached a pre-defined limit? That's what we've done.
Log in to Mousekepros and navigate to the Wait Times section: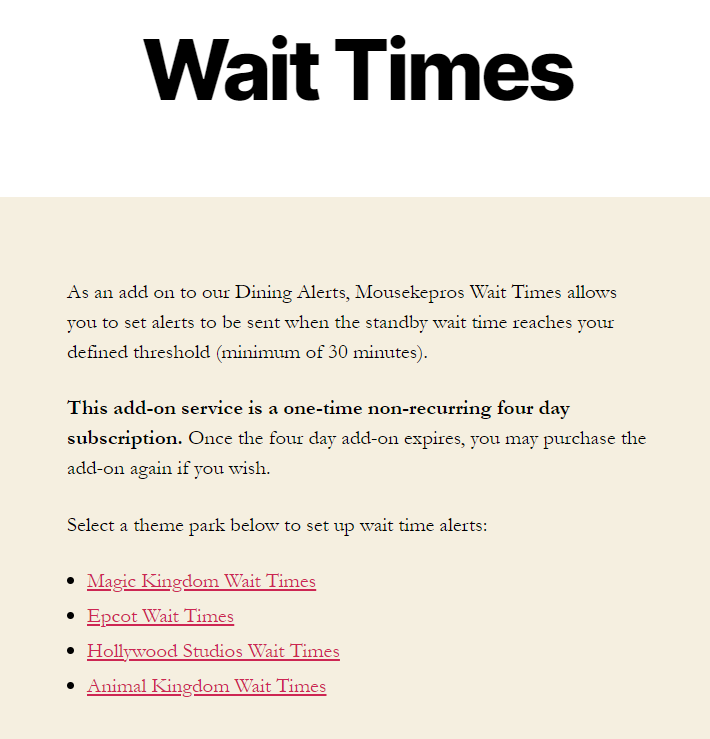 Once you select the park, we display a list of the most popular rides and it's current wait time. If the wait time is more than thirty minutes, there is an option to select a wait time at which you would like to be notified.
For example, if you were at Hollywood Studios, you may see something like this:
In the example above, the current wait time for Runaway Railway is 90 minutes and we would like to be notified if the wait gets to 65 minutes or lower. If the wait time does drop, you may get a text like this:
In the posts that follow, we will give you actual in park examples along with links to videos that show us using the tools.